Recently the subject of compression algorithms was raised on Twitter, and a number of new additions to the field were mentioned in the ensuing discussion. As I'm currently working on improving load times for a project, these newcomers piqued my interest and I set out to do some evaluation of them with "game-ish" assets.
This was originally posted on Technofumbles, which may have better formatting for the tables; if the layout is too messed up here, try the original post.
I haven't been able to test every algorithm I wanted to get to yet (new and old), and only have PC results to show so far – but am releasing the source so it can be extended as people desire. See the end of the post for a download link. Future algorithms on my list to add to the test suite are ZLib, lzham, LZMA, and a few variants there of.
UPDATE April 24, 2011: LZ4 has been open-sourced, so I've added it to the test suite and updated the results. Charts have also been added to make comparison easier.
The test data I chose came mainly from the DirectX SDK samples, with a few files that were kicking around my hard drive for good measure. Highly scientific! I hope to do more realistic tests soon!
Tests were performed on a low-end Core2 Duo laptop. Without further delays, here's the numbers.
Summary Results: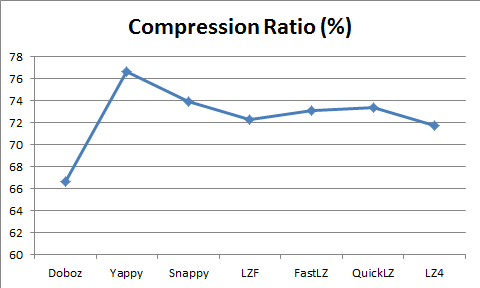 Compression Ratio (click to enlarge):

Compression Time (click to enlarge):

Compression Time, Zoomed (click to enlarge):

Decompression Time (click to enlarge):

Decompression Time, Zoomed (click to enlarge):

Summary Results:
| | | | |
| --- | --- | --- | --- |
| Algorithm | % (Average) | Compression Time (Total) | Decompression Time (Total) |
| Doboz | 66.609 | 38.26463 | 0.24643 |
| Yappy | 76.616 | 1.83406 | 0.10750 |
| Snappy | 73.838 | 0.51189 | 0.20106 |
| LZF | 72.293 | 0.73531 | 0.20450 |
| FastLZ | 73.105 | 0.89960 | 0.25096 |
| QuickLZ | 73.373 | 0.44819 | 0.29023 |
| LZ4 | 71.743 | 0.52270 | 0.13279 |
Compression Details:
 
Doboz
Yappy
File Type
%
S
%
S
BMP
76.859
0.28196
100.511
0.01840
BMP
15.771
2.04379
39.693
0.08194
DDS
92.847
2.71034
98.261
0.13022
DDS
100.000
1.15703
102.474
0.06402
DDS
30.457
0.38021
37.101
0.01224
DDS
58.066
1.63392
78.431
0.07035
DDS
77.604
0.21672
85.799
0.01651
DDS
38.272
0.32217
45.296
0.01378
DDS
75.037
2.75669
98.596
0.09562
DDS
50.520
2.97517
81.242
0.09691
DDS
38.885
0.07744
46.294
0.00358
DDS
98.550
0.04572
100.713
0.00609
DDS
46.584
7.37891
72.888
0.28009
X
17.017
0.05599
28.431
0.00297
JPG
100.001
0.15212
101.159
0.02035
PDF
100.000
0.61228
102.308
0.06216
PDF
100.000
5.26727
98.232
0.36000
PNG
100.032
0.00551
101.561
0.00038
PNG
100.018
0.00658
101.584
0.00065
MESH
30.941
0.16696
47.942
0.01962
ANIM
20.349
0.08969
23.585
0.00349
SMD
8.705
0.81705
28.595
0.02770
TXT
36.946
0.01829
54.240
0.00270
TXT
36.000
0.00952
49.461
0.00078
HDR
85.190
3.04351
97.053
0.11724
WAV
100.000
1.34706
95.849
0.09014
WAV
100.000
0.98768
99.833
0.07076
WAV
97.022
2.64150
102.726
0.10698
WAV
100.000
0.83595
102.019
0.06339
 
Snappy
LZF
File Type
%
S
%
S
BMP
98.494
0.00494
86.235
0.00886
BMP
34.023
0.02537
42.279
0.01739
DDS
97.980
0.04788
95.804
0.06335
DDS
99.956
0.00500
100.229
0.02882
DDS
36.008
0.00356
33.066
0.00441
DDS
76.513
0.04170
70.303
0.02679
DDS
86.051
0.00662
82.233
0.00726
DDS
44.553
0.00433
42.180
0.00441
DDS
96.407
0.03740
86.483
0.04520
DDS
76.097
0.05383
68.093
0.03548
DDS
45.953
0.00131
43.822
0.00149
DDS
98.711
0.00064
97.998
0.00281
DDS
68.686
0.15584
62.146
0.09891
X
25.919
0.00096
26.458
0.00067
JPG
97.265
0.00130
100.833
0.00837
PDF
98.477
0.00447
101.311
0.02401
PDF
95.421
0.03683
97.329
0.14390
PNG
99.440
0.00006
101.189
0.00036
PNG
99.958
0.00005
100.406
0.00037
MESH
41.180
0.00460
40.191
0.00450
ANIM
22.804
0.00068
21.442
0.00069
SMD
19.854
0.00573
15.934
0.00462
TXT
51.544
0.00083
49.048
0.00067
TXT
45.939
0.00033
45.320
0.00032
HDR
94.695
0.03526
91.182
0.05647
WAV
93.265
0.01055
94.968
0.04045
WAV
97.076
0.00619
99.201
0.02845
WAV
99.861
0.00718
99.541
0.04940
WAV
99.176
0.00445
101.271
0.02595
 
FastLZ
QuickLZ
File Type
%
S
%
S
BMP
90.305
0.01170
91.482
0.00714
BMP
41.562
0.02124
49.502
0.01913
DDS
97.465
0.08657
100.000
0.02873
DDS
101.011
0.03795
100.000
0.01411
DDS
33.720
0.00467
33.060
0.00449
DDS
74.448
0.03656
69.147
0.02293
DDS
85.192
0.01019
87.021
0.00553
DDS
43.315
0.00570
42.407
0.00355
DDS
89.005
0.05589
86.723
0.03342
DDS
70.850
0.04215
69.727
0.02931
DDS
45.153
0.00162
43.871
0.00100
DDS
98.450
0.00313
100.003
0.00219
DDS
67.313
0.11819
64.563
0.07868
X
25.687
0.00079
24.202
0.00057
JPG
99.935
0.00988
100.001
0.00424
PDF
101.166
0.02915
100.000
0.01258
PDF
97.352
0.17365
100.000
0.07601
PNG
101.303
0.00018
100.057
0.00008
PNG
100.720
0.00032
100.032
0.00013
MESH
36.532
0.00609
37.332
0.00426
ANIM
20.880
0.00087
21.235
0.00069
SMD
14.640
0.00526
14.675
0.00456
TXT
49.004
0.00062
47.658
0.00044
TXT
45.977
0.00024
45.105
0.00019
HDR
93.522
0.06468
100.000
0.02546
WAV
95.033
0.04300
100.000
0.01853
WAV
99.288
0.03458
100.000
0.01526
WAV
99.819
0.05917
100.000
0.02266
WAV
101.391
0.03263
100.000
0.01352
 
LZ4
File Type
%
S
BMP
92.720
0.01104
BMP
36.492
0.01010
DDS
93.103
0.07531
DDS
98.942
0.02954
DDS
31.981
0.00348
DDS
69.793
0.02250
DDS
79.072
0.00957
DDS
40.509
0.00522
DDS
86.819
0.04902
DDS
73.269
0.02903
DDS
42.889
0.00134
DDS
97.659
0.00189
DDS
66.108
0.06883
X
26.743
0.00113
JPG
97.413
0.00170
PDF
98.492
0.00430
PDF
95.267
0.03972
PNG
99.276
0.00040
PNG
99.086
0.00063
MESH
38.591
0.00512
ANIM
20.849
0.00152
SMD
15.971
0.00518
TXT
51.581
0.00079
TXT
49.976
0.00052
HDR
89.331
0.06100
WAV
93.001
0.01503
WAV
97.113
0.00956
WAV
99.146
0.05368
WAV
99.346
0.00570
Decompression Details:
| | | | |
| --- | --- | --- | --- |
| | Doboz | Yappy | Snappy |
| File Type | S | S | S |
| BMP | 0.00540 | 0.00067 | 0.00114 |
| BMP | 0.00757 | 0.00556 | 0.01270 |
| DDS | 0.02847 | 0.00675 | 0.01048 |
| DDS | 0.00452 | 0.00294 | 0.00359 |
| DDS | 0.00114 | 0.00053 | 0.00110 |
| DDS | 0.01542 | 0.00680 | 0.01513 |
| DDS | 0.00218 | 0.00075 | 0.00156 |
| DDS | 0.00132 | 0.00055 | 0.00124 |
| DDS | 0.02774 | 0.00535 | 0.01060 |
| DDS | 0.01797 | 0.00713 | 0.01974 |
| DDS | 0.00040 | 0.00017 | 0.00040 |
| DDS | 0.00074 | 0.00029 | 0.00021 |
| DDS | 0.04511 | 0.02750 | 0.05855 |
| X | 0.00023 | 0.00017 | 0.00034 |
| JPG | 0.00059 | 0.00054 | 0.00118 |
| PDF | 0.00260 | 0.00249 | 0.00308 |
| PDF | 0.02046 | 0.01731 | 0.02017 |
| PNG | 0.00001 | 0.00001 | 0.00001 |
| PNG | 0.00001 | 0.00001 | 0.00001 |
| MESH | 0.00197 | 0.00085 | 0.00284 |
| ANIM | 0.00019 | 0.00013 | 0.00129 |
| SMD | 0.00214 | 0.00180 | 0.00479 |
| TXT | 0.00020 | 0.00012 | 0.00029 |
| TXT | 0.00009 | 0.00005 | 0.00012 |
| HDR | 0.03745 | 0.00647 | 0.01246 |
| WAV | 0.00334 | 0.00302 | 0.00409 |
| WAV | 0.00269 | 0.00242 | 0.00431 |
| WAV | 0.02631 | 0.00529 | 0.00710 |
| WAV | 0.00233 | 0.00221 | 0.00455 |
| | | | |
| --- | --- | --- | --- |
| | LZF | FastLZ | QuickLZ |
| File Type | S | S | S |
| BMP | 0.00276 | 0.00416 | 0.00679 |
| BMP | 0.01091 | 0.01349 | 0.01799 |
| DDS | 0.01478 | 0.01770 | 0.00538 |
| DDS | 0.00542 | 0.00613 | 0.00290 |
| DDS | 0.00107 | 0.00126 | 0.00243 |
| DDS | 0.01122 | 0.01429 | 0.02223 |
| DDS | 0.00187 | 0.00234 | 0.00536 |
| DDS | 0.00129 | 0.00157 | 0.00305 |
| DDS | 0.01678 | 0.02031 | 0.03722 |
| DDS | 0.01649 | 0.01970 | 0.03277 |
| DDS | 0.00041 | 0.00047 | 0.00082 |
| DDS | 0.00054 | 0.00067 | 0.00011 |
| DDS | 0.04369 | 0.05458 | 0.08630 |
| X | 0.00036 | 0.00040 | 0.00047 |
| JPG | 0.00092 | 0.00119 | 0.00057 |
| PDF | 0.00403 | 0.00379 | 0.00221 |
| PDF | 0.02469 | 0.02823 | 0.01733 |
| PNG | 0.00002 | 0.00002 | 0.00001 |
| PNG | 0.00003 | 0.00004 | 0.00001 |
| MESH | 0.00192 | 0.00213 | 0.00528 |
| ANIM | 0.00019 | 0.00021 | 0.00049 |
| SMD | 0.00292 | 0.00324 | 0.00441 |
| TXT | 0.00025 | 0.00134 | 0.00041 |
| TXT | 0.00032 | 0.00013 | 0.00017 |
| HDR | 0.01578 | 0.01920 | 0.00687 |
| WAV | 0.00485 | 0.00668 | 0.02031 |
| WAV | 0.00393 | 0.00441 | 0.00260 |
| WAV | 0.01349 | 0.02018 | 0.00550 |
| WAV | 0.00467 | 0.00572 | 0.00242 |
| | |
| --- | --- |
| | LZ4 |
| File Type | S |
| BMP | 0.00145 |
| BMP | 0.00668 |
| DDS | 0.00939 |
| DDS | 0.00319 |
| DDS | 0.00075 |
| DDS | 0.00831 |
| DDS | 0.00107 |
| DDS | 0.00086 |
| DDS | 0.01101 |
| DDS | 0.01046 |
| DDS | 0.00026 |
| DDS | 0.00021 |
| DDS | 0.03002 |
| X | 0.00026 |
| JPG | 0.00086 |
| PDF | 0.00276 |
| PDF | 0.01641 |
| PNG | 0.00001 |
| PNG | 0.00002 |
| MESH | 0.00128 |
| ANIM | 0.00013 |
| SMD | 0.00228 |
| TXT | 0.00017 |
| TXT | 0.00009 |
| HDR | 0.01020 |
| WAV | 0.00393 |
| WAV | 0.00239 |
| WAV | 0.00535 |
| WAV | 0.00250 |
Current source can be grabbed here (mostly platform-agnostic test suite library with a C# GUI and C++/CLI for interop):
GitHub: